TECHNICAL TIPS / NEWS

Rule of Thumb = PLEASE LET US HANDLE IT.
Contact us for advice ===> call 610-983-0707 or email us
Before cleaning, check the CARE SYMBOLS of your garments.
- International Garment Care Symbols ===> Care Symbol
- provided by Neighborhood Cleaners Association-international (NCA-i)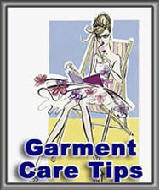 (6)draperies
(7)old-wives-tale-stain-removal-tech
(10)winter-wear
(11)wool-care
NCA-I Points of Perfection
(1) Do you do all work on the premises?
Yes, all work is done on the premises. We are fully equipped with the complete system for dry cleaning, laundry and tailoring.
(2) Can you remove the wine stain on my silk blouse?
Yes, There is strong possibility to remove it. It is all up to the nature of the stain. Although it is true that silk is not easy material to work with, we are very skilled and experienced enough to analyze the stain chemically so that we are able to tackle the problems. We strongly recommend our customers to let us handle the stain ASAP. The time is matter!
(3) How about ink stain on red silk dress?
Silk requires more delicate treatment and the color of red has great tendency to bleed. However, our experience staff can handle that with the good rate of success.
(4) For smoke damage, what can you do?
We can restore your smoke-damaged garments and household items. Please get consultation from us.
(5) I have a suit-jacket of size- 44. Can you reduce the size of the suit to 42?
Yes, we can without altering any style. Please call us at 610-983-0707 or check our services
(6) I have a pair of Bebe jean, can you shorten the length of jean exactly as per original?
Yes, we can. Our tailor has done this job for long time. You should make a special request to us at the time of drop off. Please check our Services. It may be worth for any pricy jeans.
(7) I don't know if my leather jacket needs a new zipper or not....
Let us look at it. Often time, it is not necessary to replace whole zipper. So you can save your money.
(8) How do I know if my wedding gown is well cleaned or not?
We are confident enough about our workmanship to show you and let you inspect the cleaned wedding gown. In case our customer is not satisfied, we are happy to do it again for the better result. We always invite our customer to look at her wedding gown after cleaning and before preservation.
(9) What do you do for the missing or cracked buttons on the shirts?
Even if you do not ask, we replace buttons for you at free of charge if there are any no good buttons on your shirt. Check our services for shirt cleaning.
(10) Is your plant environmentally friendly?
Yes, we are. We have a strong record of clean environment, and we have been well complying EPA and OSHA regulations.